I was born in 1987 in Edgar, Nebraska. After time in Newaygo, Michigan, my family settled in the Chicago area. Growing up, I developed a deep passion for music, especially the piano.
I studied music composition at Northwestern University, in Evanston, Illinois, and worked with Aaron Travers, Lee Hyla, Hans Thomalla, Jay Alan Yim and Marcos Balter.  Living in Evanston, I also played for Friendship Baptist Church and Oasis Christian Ministries International. These primarily African-American congregations may have taught me more than anything else. I learned a large body of gospel songs and developed a sophisticated understanding of gospel keyboard playing. I learned to lead choirs. I heard excellent preachers, singers and instrumentalists visiting black churches throughout the Chicago area. I developed an appreciation for and understanding the black experience, and began to struggle with my own position of privilege as a white person.  And I developed a deep faith and commitment to social justice, and a calling to live out this faith and integrate it with my musical work.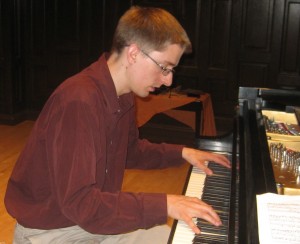 After completing my BM at Northwestern in 2010, I responded to this calling, during a year in San Miguel Dueñas, Guatemala, as a Young Adult Volunteer with the Presbyterian Church, USA. I lived with a Guatemalan host family, taught English and piano at Open Windows, played in an evangelical church band, became fluent in Spanish, learned traditional Guatemalan songs, cut out numerous pieces of cardboard for daily craft projects at an educational center, and learned to keep up with the sharp wit of teenagers. Most of all, I affirmed my love for the piano as I watched my students learn to enjoy making music.
I moved to Oakland, CA for the music composition program at Mills College. I studied with Roscoe Mitchell and Chris Brown. I completed my MA in May 2013. I served for two years as music director at New Spirit Community Church, a progressive ecumenical community in Berkeley, CA.  I served four 5 years as Minister of Music at Bethel Community Presbyterian Church in San Leandro, CA and play for City of Refuge UCC in Oakland, CA, and the Pacific School of Religion.
In 2014 I composed a new chamber opera called Heaven Down Here. It is a presentation of Jim Jones' Peoples Temple, the California church that ended in the infamous Jonestown massacre. Through music, I recreate feelings that I experience simultaneously in studying their story: hope and fear; freedom and oppression. In approaching it, I am also struggling with my identity as a white person who worked with primarily black communities, using vibrant worship to advocate for social justice, like Jim Jones. We performed this piece for the first time in June 2014. Please contact me if you have questions or thoughts about this project.
Now I am involved in "dialogues" with African American Spirituals.  My solo album Heard the Voice came out on Edgetone Records in August 2015. Trouble Ensemble expands this sense of sonic dialogue to a larger group.
And, as if there wasn't enough chaos, cacophony, complexity and dissonance in our lives, I went ahead and created The Ives Band.
I am also the founder of the All Ears Interfaith Sangha, which began meeting at 5:30pm on the first Sunday of every month in September 2018. It is an opportunity to explore the deep listening techniques and sonic meditations of Pauline Oliveros, and encourage the creation and performance of new sonic meditative experiences.