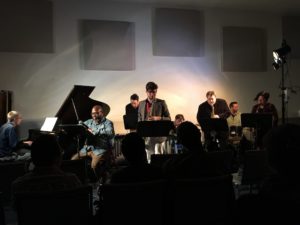 Our first Album In the Water, is now out, and available from Edgetone Records!
Currently, Trouble Ensemble is creating remote musical dialogue!
Our first three remotely-recorded pieces:
Were You There
I Believe
Amen
**Now, we hope to expand our sense of dialogue, and invite sounds from anyone who wishes to join our remote collaboration. Click here for details!**
Trouble Ensemble is:
Ernest Larkins, voice; Rent Romus, Maureen Spranza and Joshua Marshall, saxophones; Jakob Pek, guitars; Andrew Jamieson, piano; Tim DeCillis and Chris Lauf, percussion, with Marvin K White, spoken word.
"God's gonna trouble the water."
– The Spiritual "Wade in the Water"
"For an angel went down at a certain season into the pool, and troubled the water: whosoever then first after the troubling of the water stepped in was made whole of whatsoever disease he had.."
John 5:4 King James Bible
Throughout their history, the spirituals have illuminated the spiritual force that "troubles" the "waters" of injustice and oppression, using the power of African and African American music and spirituality. Originally, songs of black American slaves, they are rooted in song, dance and drumming of West Africa, the experience of oppression of an uprooted people, and the teachings of a transformative faith. They "troubled" the oppressive teachings of their society, and their message and tradition continue to "trouble" unjust systems today.
Looking to the tradition of composers and experimenters like Charles Ives, John Cage and Sun Ra, we find contemporary musicians "trouble" the musical establishment and its conventions as they envisioned radical new ways of making and listening to sound. But in many ways, their traditions are a separate musical "voice" from African American spirituality. The two voices cannot merge into one, but they can have a conversation in a musical setting, as elements of one occupy the same musical space as elements of another. We invite the audience to listen for moments of harmony, moments of dissonance, and moments where the voices can learn from one another. In this way, we model the kind of cross-cultural and interracial conversation that seems badly needed in our current time.
Avant-gospel band Trouble Ensemble creates a large group conversation between eight musicians. We perform arrangements of spirituals, where we present a melody, rhythm and text derived from the tradition, along with jagged harmonies, unusual timbres and free improvising. With west African-inspired sounds of jazz and gospel music, and new sounds innovated from a tradition of experimentation, we use our own musical voices to share stories and truths. Coming from diverse backgrounds, we come together to "dialogue" with the sounds and tradition of African American spirituals. Listening to their voice, we are compelled to say that black history matters, black liberation matters and black lives matter. We present arrangements expanded from Talking with Spirituals 2015 solo album Heard the Voice.
Trouble Ensemble YouTube channel